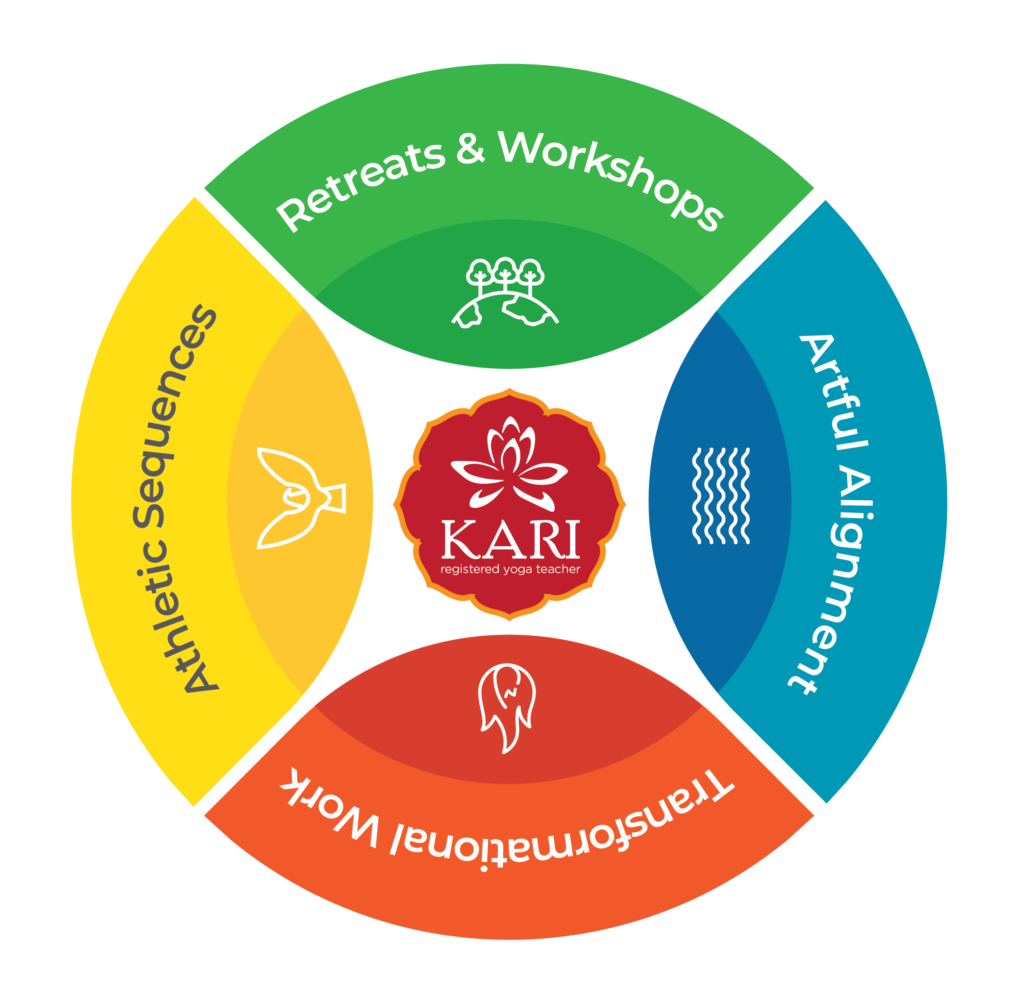 MY OVERALL PHILOSOPHY
My aim is to point you back to yourself. I help you and encourage you to burn away that which dims your light and to remove obstacles that get in your way. I inspire you to live your life to your fullest potential. So, you can be the best that you can be and shine and radiate as your true, divine self. 
MY GOALS FOR YOU – ALIGN. ENERGIZE. HEAL.
My objective is for you to feel successful in any of the following. 
Feel symmetry. 
Feel equilibrium.
Feel energy flowing.
Feel open and joyful. 
Feel empowered and self-confident.
Feel spacious within.
Feel enthusiastic and grateful.
Feel alive. 
Feel light and love.
Feel inner peace. 
Feel centered and whole.
Feel intimately connected to your true self.
Feel one with everything.
ALLOW YOUR YOGA PRACTICE TO SUPPORT YOUR LIFE
Discover yoga practices and daily living practices to keep your mind, body, and spirit strong, supple, engaged, and peaceful.
For example, I practice yoga to keep my body strong and supple, I practice pranayama to keep my mind calm, I walk in nature to keep energy flowing and to release any built up tensions, I bike so that I feel free, I grow a garden to stay connected to the medicines from the earth, I pray to connect to gratitude, I study and read yoga texts to stay close to the light of truth, and I write poetry as an expression of love and inspiration.
MY VALUES AS A YOGA PRACTIONER
I apply the Yamas and Niyamas during my own yoga practice and when working with yoga practitioners. 
Yamas – Restraint or control of thoughts, behaviors, and emotions that produce suffering and difficulty.

Ahimsa: Do no harm.  
Satya: Be compassionate and truthful about my teaching and assessments. 
Asteya: Honor and respect students space and needs.  
Bramachaarya: Remember that we are all related. 
Aparigraha: Be simple and generous with my attention, awareness, and presence. 

Niyamas – Create well-being for self and others.

Saucha: Connect with my third eye to assess and intuit how best to help. 
Santosha: Create a safe space where contentment is achieved in feeling, in treatment, and in results. 
Tapas: Practice yoga with the wisdom and the discipline of the art form, so I can best serve others. 
Svadyaya:  Practice self-study and self-inquiry to learn, grow, and see myself clearly, and so I can see others clearly. 
Ishvara Pranidhana: Surrender my service as an act of generosity and kindness to help bring out the best in others, alleviate pain and suffering, and bring forth a light-hearted sense of delight, playfulness, and joy.